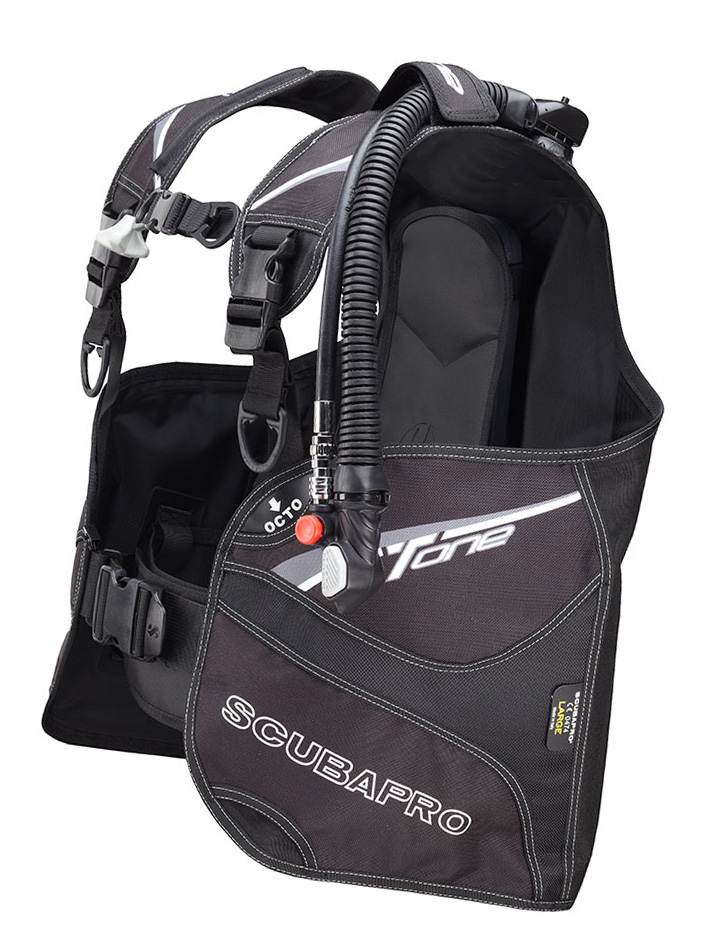 The design of the T-One makes our most popular rental BC an ideal first purchase
when you start diving. We have added features, improving comfort and ease of use,
with the still same reliability and outstanding resistance the T-One is well known for.
Size color code on both neck and pockets.
This simple adjustable BC is the lightest jacket on the market. It's the perfect buoyancy compensator for traveling divers, entry level divers, diving clubs and rental, or anyone who just wants to get back to quality basics.
Durable 1000D exterior for long-term wear.
Lightweight tank band with durable plastic buckle system for easy to adjust security.
Internal octopus holder conveniently keeps your octopus close at hand for better safety.
2 side pockets to keep your essentials and extras secure plus restyled graphics and shape.
Comfort back-pack.
Available with Balanced Power Inflator (BPI).
Pre-constructed knife attachments points accommodate a SCUBAPRO knife.
T-One is available in 7 sizes: XXS-XXL.
User Manuals
BCD MANUAL
| | | | |
| --- | --- | --- | --- |
| Size | Lift (N) | Lift (kg/lb) | Max bottle size (l) |
| XXS | 90 | 9.2 / 20.2 | 15 |
| XS | 110 | 11.2 / 24.7 | 15 |
| S | 140 | 14.3 / 31.5 | 15 |
| M | 170 | 17.3 / 38.2 | 18 |
| L | 180 | 18.3 / 40.5 | 18 |
| XL | 210 | 21.4 / 47.2 | 18 |
| XXL | 230 | 23.5 / 51.7 | 18 |
Available Options
| | |
| --- | --- |
| SIZE | XXS, XS, S, M, L, XL, XXL |