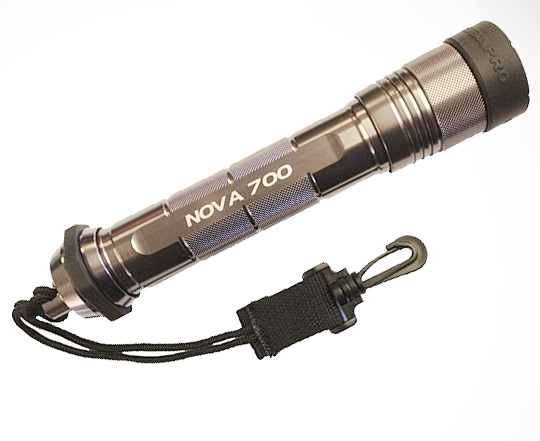 SCUBAPRO leaps light years ahead in underwater illumination with the introduction of its Nova 700 and Nova 700R dive lights. The Nova 700/700R's design is technical to its core, conveying power and durability.
Machined from heavy-duty aluminum, both lights are lightweight yet built to last, while delivering powerful illumination. They both use the same light head, equipped with the newest CREE XML2 LED, capable of pumping out between 700 and 800 lumens. Both lights use simple twist-on/twist off activation backed by double-O-ring seals. Strategically placed knurling, raised-up diamond-shaped indentations in the metal, improves grip and makes the twist activation that much easier. A shock-proof rubber protection over the end of the light head safeguards the electronics and provides an additional no-slip surface. Rated to a maximum depth of 300m (1000ft), both models are equipped with an overpressure valve on the end cap, an important safety feature not normally found on torches in the Nova 700/700R's price range.
The two lights differ in size and power. The Nova 700 is the larger of the two, measuring 22.2cm (8.7 inches) in length. It is powered by three C-cell batteries – which can be either disposable or rechargeable. The Nova 700R is a more compact rechargeable version, as indicated by the 'R' and measures 14cm (5.5 inches) in length. It is powered by a single 18650 Lithium-ion or Lithium-ion polymer (LiPo) battery. The Nova 700 provides 10 hours of burn time while its smaller colleague, the 700R, gives 2.5 hours.
Nova 700:
Aluminum body

Overpressure valve

700 real measured lumen

10.500 lux@1m

Runs with 3 x C battery (rechargeable or disposable)

Newest XML2 LED

Light head can run with the Nova 700R body - can beupdated
Illumination:
When it comes to evaluating a dive light's brightness, measuring lumens is the easiest and most useful comparison method. A lumen is the intensity of light as it is perceived by a human eye. In other words, a lumen indicates brightness, opposed to a watt which measures power output.
When it comes to cranking out brightness, the Nova 700 and Nova 700R run well ahead of the pack. Producing higher lumens than most primary dive lights-including many large pistol-grip styles-and out-pacing virtually all secondary dive lights, the Nova 700 and 700R lead the market in sheer light intensity.
Burn Time:
Using a set of three C-cell batteries the Nova 700 delivers intense maximum illumination which gradually settles into a steady light output, delivering10-plus hours of total burn time.
On a fully charged lithium-ion battery, the Nova 700R maintains its maximum light intensity well through its charge, delivering a maximum burn time of approximately 2.5 hours.