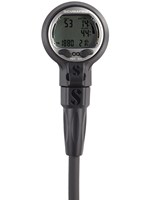 Technical Information
Integrated pressure data eliminates the need for a pressure gauge.
Predictive Multi-Gas ZHL8 ADT MB algorithm accommodates three gases (21-100% O2).
PDIS (Profile Dependent Intermediate Stops) calculates an intermediate stop based on N2 loading, current and previous dives and breathing mixes for safer diving.
Microbubble levels let you adjust the level of conservatism in the algorithm to match your experience level, age and physical conditioning.
Available as a stand-alone computer or set in a traditional console with a compass.
Features a protective boot covering the metal connection between HP hose and DC's HP sensor.
PLUS:
Two Dive modes: Scuba, Gauge.
Supports CCR systems (closed circuit rebreather).
Two black plastic buttons provide easy access to modes and the set-up of basic parameters.
Three-color nitrogen tissue loading bar graph makes it easy to monitor N2 status.
Maximum operating depth: 394ft/120m.
Altimeter.
Active back light.
Bookmark function.
Lens protection cap.
CR2450 user replaceable battery rated for two years/300 dives.
Dive logs can be stored and analyzed with a PC/Mac via Infrared technology.