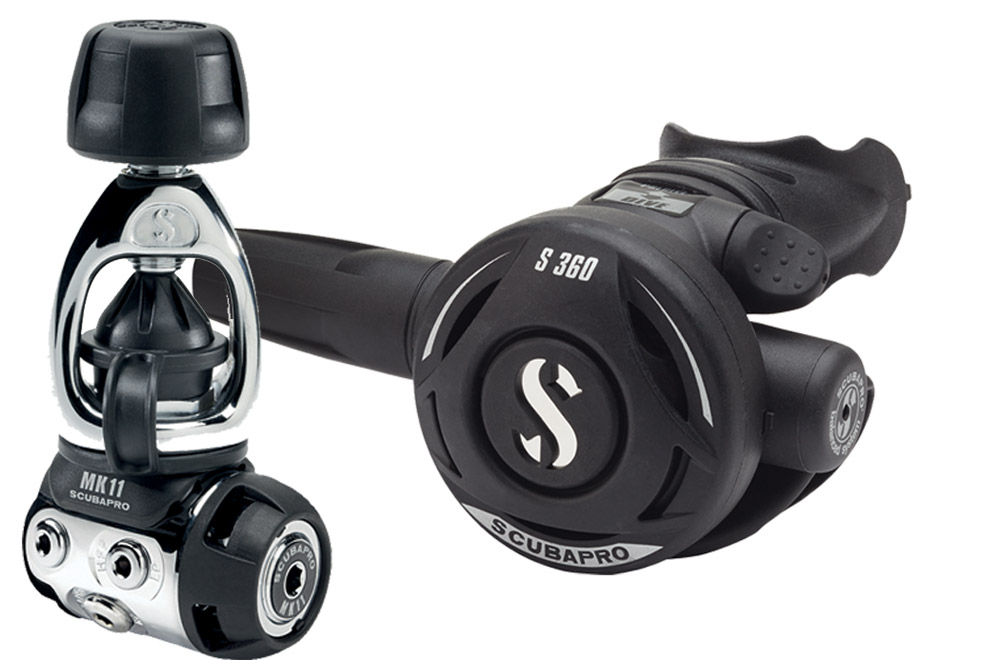 The perfect reg for divers seeking solid performance in an uncomplicated air delivery system.
The MK11/S360 is a balanced diaphragm first stage coupled with a simple air-balanced second stage to create an efficient and affordable breathing system ideally suited to all recreational divers.
The MK11's balanced diaphragm design is compact and lightweight, making it the perfect travel companion. The diaphragm system keeps water and pollution out of the main mechanism, increasing reliability and performance. Its polished chrome forged brass body features identical high pressure and low pressure ports on each side so you can hook it up to your tank in either the up or down position while maintaining the same port layout. Also, two of the low pressure ports are high-flow, delivering about 15 percent more air than the standard low pressure ports. This means lots of effortless airflow with every breath.
The lightweight techno-polymer S360 is an air balanced second stage similar to the S560 but with pre-tuned inhalation backed by a simple Venturi-Initiated Vacuum Assist (VIVA) switch for divers who prefer to keep their reg systems simple.
The MK11/S360 delivers performance, ease of use and reliability, all at an affordable price. It's just the ticket for recreational divers of all skill levels, and dive travelers in particular.
MK11 First Stage:
Air balanced diaphragm design delivers constant and effortless airflow unaffected by depth, tank pressure, or breathing rate.
Environmentally sealed system prevents water and pollutants from fouling the inner mechanism while enhancing cold-water performance.
Two high pressure, two low pressure and two high-flow ports maximize hose routing options.
External intermediate pressure adjustment enables technicians to fine-tune performance quickly and easily without the need for disassembly.
Available in either 3364psi/232bar INT or 4350psi/300bar DIN configurations.
Weight: INT 232 - 24.4oz/692g; /DIN 300 - 16.6oz/470g.
Airflow at 2900psi: 5500 l/min - 195 SCFM.
Intermediate pressure (psi/bar): 130-142/9.0-9.8.
S360 Second Stage:
Lightweight techno-polymer casing helps reduce jaw fatigue and improve diving comfort.
Metal internal components contribute to reliability and long life.
Air-balanced valve smoothes out the inhalation effort when diving at varying depths and supply pressures.
High flow exhaust valve reduces exhalation effort to lower overall work of breathing.
Venturi-Initiated Vacuum Assist (VIVA) dive/pre-dive switch helps control free flows.
Super-flow hose features an oversized bore (larger inside hose diameter) that allows more air to flow on each inhalation.
Ultra-comfortable orthodontic mouthpiece is easy to grip yet doesn't inhibit airflow.
Weight: 5.6oz/158g.
Airflow at 2900psi: 1850 l/min - 66 SCFM.
Maximum low pressure: 203psi/14bar.